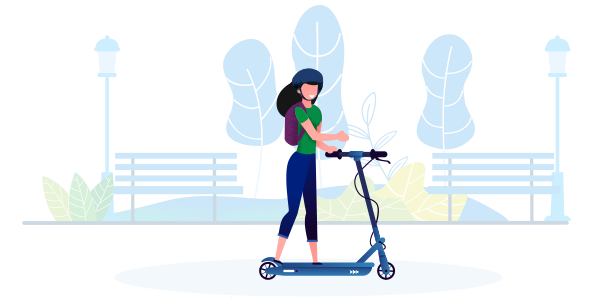 Safety technologies for light electric vehicles
GEKOT Robotics creates safety technologies for lightweight electric vehicles that enable fleet operator compliance and rider safety in cities around the world- allowing safe, accessible transportation.
We serve light electric vehicle manufacturers and fleet operators,
pairing end users with smart vehicle technologies.
Solutions
GEKOT provides intelligent technology to improve the vehicle experience for fleet operators, municipalities, riders and nearby pedestrians.
lock
SAFETY
GEKOT's Active Safety Technology provides extra "eyes on the road" to prevent accidents, detecting potential hazards before it's too late.
verified_user
ANTI-THEFT
Anti-theft solutions deter thieves from tampering with your vehicle and batteries.
assured_workload
GOVERNANCE
GEKOT's innovative "rules-adherent" technologies help keep vehicle operators in compliance with local government regulations.
Products
GEKOT provides a range of on-vehicle solutions addressing challenges unique to the micro mobility industry.
Active Safety
GEKOT's collision detection technology utilizes an array of sensors to mitigate accidents.
Lock-to
An electronic locking device keeps vehicles securely tethered to a bike rack while parked within the city's compliance boundaries.
Theft Deterrent Alarm
GEKOT's theft deterrent alarm system is uniquely designed to warn of unauthorized interior access and thwart battery theft.
Night Visibility
Many accidents occur in the dark. E-scooters equipped with improved night visibility technology create safer conditions for vehicle operators and nearby pedestrians.
Turn Indication
E-scooters equipped with GEKOT's passive turn indicator system automatically broadcast a change in direction to nearby pedestrians.
Sidewalk Detection
Vehicle dynamics sensors detect when the vehicle is operating in a pedestrian zone.
Reckless Riding Detection
Detects excessive swerving, hard braking, and power slides by monitoring accelerometer values in the "reckless" range.
GEKOT was formed to support the fast growing Light Electric Vehicle industry. Since 2017, rental e-scooters and e-bikes are popping up everywhere. The vehicles are an excellent transportation mode replacing unnecessary car trips. The use of these nimble vehicles have...
When you hear the word "LiDAR", most people think of the expensive looking "spinnie things" on top of autonomous test vehicles. This technology is used to create a 3D "point cloud" of the environment. It's very cool, and yes, very expensive. "LiDAR" stands for Light...